My play "Encore, Encore" has just been announced as the winner of the Inkslinger Playwriting Competition. The competition is sponsored by Southeastern Louisiana University of Hammond, Louisiana.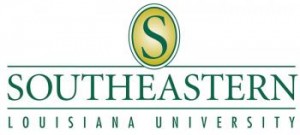 Southeastern Louisiana University is "the state's third-largest public university, boasting more than 15,600 students and more than 60 degree programs." The organization attained university status in 1970 and was the fast-growing college in the United States in the 1990's. SLU (as it is called) consists of five colleges with 26 academic departments and programs offering a total of 71 degree programs (4 associate degree programs, 48 baccalaureate degree programs, and 19 graduate degree programs)
The Inkslinger Playwriting Competition was founded in 2014 by Associate Professor of Theatre Jim Winter, making "Encore, Encore" the second winner of the festival.
"Encore, Encore" will be given four performances from March 8-March11, 2016 and is already on the calendar of the university's 2016 theatrical season: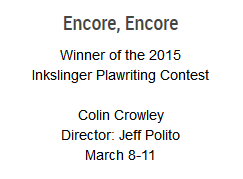 Many thanks to Southeastern Louisiana University for this great honor!!