An article came out today in a local Denver newspaper about the New Works Festival sponsored by the Historic Elitch Gardens Theatre. The New Works Festival will mark the return of live theater to the beautiful building that has housed so much theatrical history.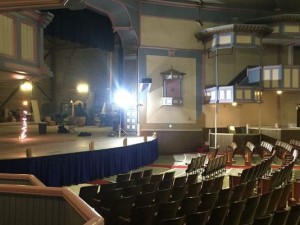 The following six plays will be read during the festival:
"The Consul, The Tramp and America's Sweetheart" by John Morogiello; directed by Jennifer McCray Rincon
"The Mess of Us" by Moss Kaplan and Greg Ungar; directed by Kate Marie Folkins
"A Good Indian" by Steven Cole Hughes; directed by Pat Payne
"In the Closet" by Siegmund Fuchs; directed by Robert Brown
"Fifteen Men in a Smoke Filled Room" by Colin Speer Crowley; directed by Bev Newcomb-Madden
"Lady" by Tim Nevits; directed by Robert Michael Sanders
Bev Newcomb-Madden will direct my play; she is a veteran director in Colorado who has directed the most plays of any other woman in Colorado history.
You can check out the remainder of the article here!