"The secret of being boring is to say everything."
~François-Marie Arouet (Voltaire)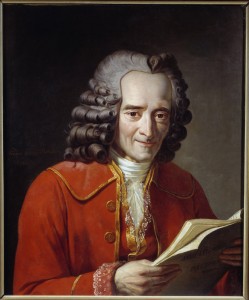 Today, I finished my new farce, "Philosophus," a project of great meaning to me and also an unexpected and very fulfilling gem. I say this because I wrote a version of this play many, many moons ago (about 17+ years) when I was still discovering my voice as a playwright and undergoing many challenges in the process. It was one of the first plays I ever wrote – and, dare I say, it probably wasn't that good. The subject matter stayed with me, however, so I suddenly decided to take a stab at the storyline again after completing my recent play "Leave It To Ms. Minor." Four weeks later, I have a completed draft of the play, of which I am very proud. I have to say I have never written a play with such ease as this one. There were hardly any bumps on the road and the entire process was very smooth. Let us hope that same ease suggests it is naturally worthy of the stage!!
Briefly, Philosophus" is a two-act, screwball comedy about the egregiously self-righteous philosopher Voltaire and the bizarre escapades surrounding his flight from the court of Frederick II, King of Prussia, from whom he stole a sensitive, personal manuscript of poems. Determined to embarrass the monarch in revenge for an unfortunate falling-out, Voltaire finds his journey to France rudely halted in the city of Frankfurt by the intriguingly Hitlerian Baron von Freytag, representative of the Prussian King. Before too long, the Baron's over-eagerness to obey his master's wishes and the enormity of Voltaire's ego combine to create a purely comedic kind of chaos, which becomes all the more ludicrous by the addition of a money-hungry German shrew, two slightly dim-witted, look-a-like servants, and Voltaire's buxom, sex-obsessed niece, who fancies herself an ingénue.
You can check out a longer synopsis and a sample of the work on the My Works page of my website!