I learned today that my social satire "Whit(e)man" has been given an "Honorable Mention" in the extremely prestigious Writer's Digest Annual Writing Competition.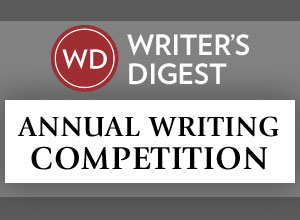 The Writer's Digest Annual Writing Competition is an international contest in its 86th year and sets itself the goal of "shining a spotlight on up and coming writers in all genres."
The competition has separate categories for:
Inspirational Writing (Spiritual/Religious)
Memoirs/Personal Essay
Magazine Feature Article
Genre Short Story (Mystery, Romance, etc.)
Mainstream/Literary Short Story
Rhyming Poetry
Non-rhyming Poetry
Script (Stage Play or Television/Movie Script)
Children's/Young Adult Fiction
My play received an "Honorable Mention" in the "Script" category, where it was competing with screenplays, as well as plays.
There were a total of over 5,100 entries in the competition this year alone, meaning my script was among the top 15% of entries.
Most special of all, my name will be published in the Writer's Digest Competition Collection due for print in November, 2017.
Thanks to Writer's Digest for this great honor!