With great pleasure, I witnessed my play "Fifteen Men in a Smoke-Filled Room" being presented by the Firehouse Center for the Arts in Newburyport, Massachusetts.
"Fifteen Men" won the Pestalozzi Prize:
"The Pestalozzi Prize … is awarded in honor of the now-dissolved, non-profit Pestalozzi Foundation set up by Herman C. Honegger after World War II to create educational opportunities for underprivileged children whose education was disrupted by the conflict in Europe. Later, the children and grandchildren of Mr. Honegger continued to fund children's education and art projects. The New Works Festval prize is a gift from the Honegger family."
I have to take my hat off to the wonderful direction of Ellen Dempsey and her great cast of actors and actresses: Charles Van Eman (Warren G. Harding), June Kfoury (Florence Kling Harding), Timothy Kenslea (Harry M. Daugherty), Ashley Risteen (Nan Britton), and Doug Brendel (George Harvey). Charles and Ashley were especially wonderful, showing me the dramatic potential of scenes that have been underperformed in prior readings.
After the show, I engaged in a talkback with the audience, moderated by festival stalwart and author Anne Easter Smith.
Here we are, in all our glory: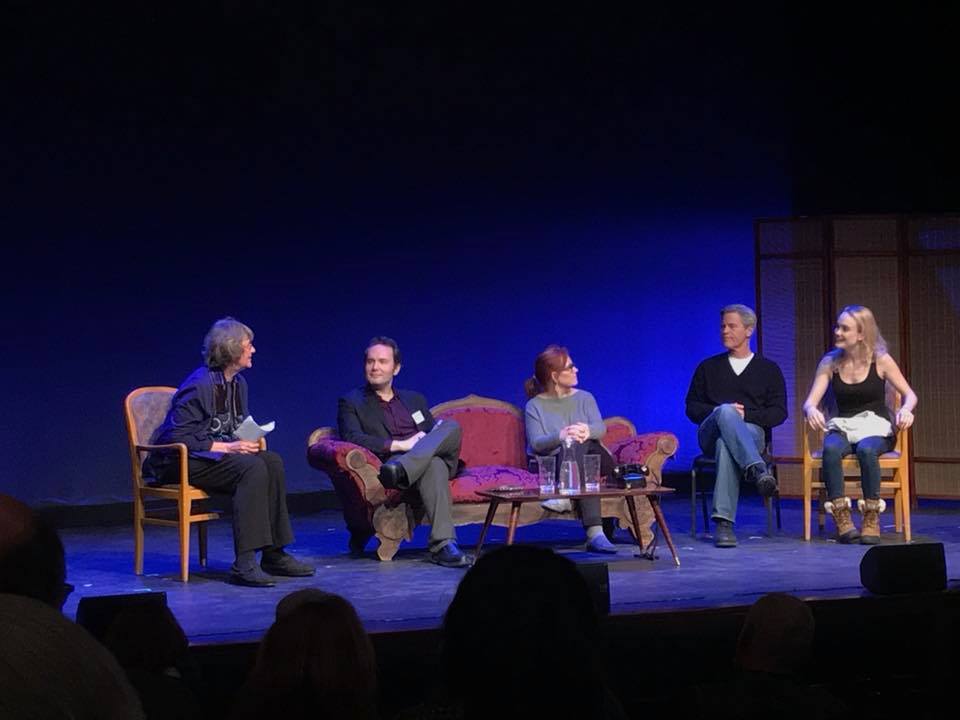 From left-to-right: Anne Easter Smith, yours truly, Ellen Dempsey, Charles Van Eman, Ashley Risteen
Once again, thanks to Firehouse Center for the Arts for a job well done – a truly professional organization!